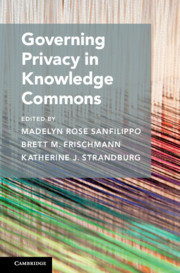 Governing Privacy in Knowledge Commons (Madelyn Rose Sanfilippo, Brett M. Frischmann, and Katherine J. Strandburg, eds.) (Cambridge University Press, 2021)
Governing Privacy in Knowledge Commons explores how privacy impacts knowledge production, community formation, and collaborative governance in diverse contexts, ranging from academia and IoT, to social media and mental health. Using nine new case studies and a meta-analysis of previous knowledge commons literature, the book integrates the Governing Knowledge Commons framework with Helen Nissenbaum's Contextual Integrity framework. The multidisciplinary case studies show that personal information is often a key component of the resources created by knowledge commons. Moreover, even when it is not the focus of the commons, personal information governance may require community participation and boundaries. Taken together, the chapters illustrate the importance of exit and voice in constructing and sustaining knowledge commons through appropriate personal information flows. They also shed light on the shortcomings of current notice-and-consent style regulation of social media platforms.
Reviews
'Governing Privacy in Knowledge Commons is a fascinating collection of essays exploring how people negotiate privacy in various contexts within communities. The book deftly interweaves theory and specific examples. The editors have brought together a set of rich and nuanced contributions to understanding the social complexities of privacy.'
Daniel J. Solove – John Marshall Harlan Research Professor of Law, George Washington University Law School
'This thought-provoking book is a must-read for anyone studying or interested in data cooperatives and data trusts. The marriage of the Governing Knowledge Commons framework with the theory of contextual integrity is a big win for privacy in the age of big data; this book advances the field considerably.'
Sue Glueck – Senior Director of Academic Relations, Microsoft
'The increasing ability to record and store our actions, opinions, health data, images, etc. lead to important questions how to govern privacy. Governing Privacy in Knowledge Commons views privacy as a problem of collective action. This book provides a fresh perspective, applying the Institutional Analysis and Development framework of Elinor Ostrom, and the Governing Knowledge Commons framework of the editors to a diverse set of knowledge commons case studies.'
Marco Janssen – Professor, Arizona State University
'The unexpected marriage of GKC and CI frameworks has yielded remarkable progeny – inspired work that combines a highly original theoretical framework with studies of privacy governance in communities ranging from health to scientific research, political activism, and others. As more of our world transitions to online environments, accelerated by the pandemic, this volume contains wisdom that is as timely as it is invaluable.'
Helen Nissenbaum, Professor, Information Science, Cornell University
Read the Book via Cambridge Core (Open Access)
Introduction by Madelyn Rose Sanfilippo, Brett M. Frischmann, and Katherine J. Strandburg
Privacy and Knowledge Commons by Madelyn Rose Sanfilippo, Brett M. Frischmann, and Katherine J. Strandburg
How Private Individuals Maintain Privacy and Govern Their Own Health Data Cooperative: MIDATA in Switzerland by Felix Gille and Effy Vayena
Pooling Mental Health Data with Chatbots by Michael Mattioli
Privacy in Practice: A Socio-technical Integration Research (STIR) Study of Rules-in-Use within Institutional Research by Kyle M. L. Jones and Chase McCoy
Public Facebook Groups for Political Activism by Madelyn Rose Sanfilippo and Katherine J. Strandburg
The Republic of Letters and the Origins of Scientific Knowledge Commons by Michael J. Madison
Privacy and Knowledge Production Across Contexts by Brett M. Frischmann, Katherine Haenschen, and Ari Ezra Waldman
Governing the Internet of Everything by Scott J. Shackelford
Contextual Integrity as a Gauge for Governing Knowledge Commons by Yan Shvartzshnaider, Madelyn Rose Sanfilippo, and Noah Apthorpe
Designing for the Privacy Commons by Darakhshan J. Mir
Conclusion – Privacy as Knowledge Commons Governance: An Appraisal by Madelyn Sanfilippo, Katherine J. Strandburg, and Brett M. Frischmann
About the Editors and Contributors
Editors
Madelyn Rose Sanfilippo is Assistant Professor at the University of Illinois at Urbana Champaign in the School of Information Sciences
Brett. M. Frischmann is the Charles Widger Endowed University Professor in Law, Business and Economics at Villanova University
Katherine J. Strandburg is the Alfred B. Engelberg Professor of Law at New York University
Contributors
Felix Gille is Professor of Bioethics at ETH Zurich.
Katherine Haenschen is Assistant Professor in the Departments of Communication Studies and Political Science at Northeastern University
Kyle M. L. Jones is Assistant Professor, Library and Information Science at IUPUI
Michael J. Madison is Professor of Law at the University of Pittsburgh
Michael Mattioli is Professor of Law at Indiana University
Chase McCoy is a Lecturer in Informatics at Indiana University
Darakhshan J. Mir is Assistant Professor of Computer Science at Bucknell Universityhttp://eg.bucknell.edu/~djm056/
Scott J. Shackelford is Associate Professor of Business Law and Ethics at Indiana University Bloomington
Yan Shvartzshnaider is Assistant Professor in the Department of Electrical Engineering and Computer Science at York University
Effy Vayena is Professor of Bioethics at ETH Zurich
Ari Ezra Waldman is Professor of Law and Computer Science at Northeastern University